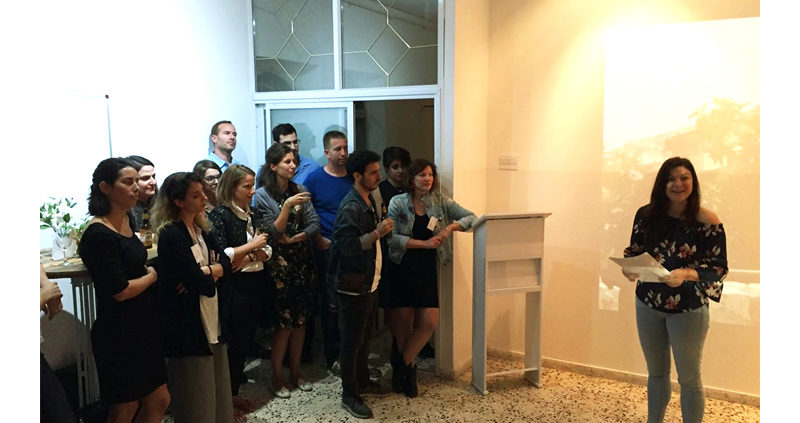 On occasion of the partners conference 2017 Johanna Uekermann visited the WBC a last time in her position as Juso-chairwoman. After four years of chairmanship Johanna will devote herself to other political challenges. Thank you, Johanna, for four years of committed support and solidarity, thanks for being a partner for peace and social justice!
You always will be welcome at the WBC!
Johannas speech in the full wording (WBC Jerusalem, 19.10.2017):
Dear comrades, dear friends of the Willy Brandt Center,

I am happy, that so many of you have gathered tonight at the place, which has become one of my favorite places to go to over the last years: The Willy Brandt Center. However, the Willy Brandt Center is not only a location, is not only this house: The Willy Brandt Center is a symbol, and an idea of a better future for all of us.

As some of you probably already know, this will be my last delegation to the region as chairwoman of Jusos, although I hope many others will follow, either for private amusement or in other political functions. But I want to take this opportunity to look back and share with you some of my personal impressions and experiences.

In 2016, we celebrated "20 years of the Willy Brandt Center." It was a time where we looked back to the year 1996, when the Willy Brandt Center was founded. Back then the foundation did not include this wonderful house in Abu Tor. This house became part of the cooperation in 2003. No the Willy Brandt Center was a promise, a promise between the leaders of political youth organizations on an eye-to-eye-level to work together for a better future. A promise built on trust and personal relationships. And this trust, built on personal relationships and mutual understanding is something which has allowed the Willy Brandt Center to exist until today.

I myself look back to several meetings of the kind, where we built trust on a personal level to work together in the political scene. I like to remember a visit to Givat Brenner, the Kibbutz of the by-then chairman of Young Labour Uri Keidar. I like to remember a visit in Silwan, where we were invited by Ahmad to have dinner with him and his family. These are the kind of encounters, where bonds were created between people, which are stronger than the constant dissonances in day-to-day politics. Because this is what in my opinion the Willy Brandt Center is about: There are times of light and times of shadow, but we have always managed to keep our channels open, to communicate in times, where it hardly seemed possible and not to lose our personal bonds.

Dear comrades, the Willy Brandt Center has welcomed many people, people from all over the world, people with different perspectives, people from various political movements. It has seen people with political power and it has seen grassroot-activists coming from Germany to the region for their first time. And all those people are the Willy Brandt Center. Without them, it would not exist. And its existence also depends on the inclusion of new faces, of new people who feel the spirit of the Willy Brandt Center and it include it in their daily political activism. Therefore I look optimistic into the future of the Willy Brandt Center, because I know, and I am very sure about this, the Willy Brandt Center does not depend on single persons, but on the relationships we build on an eye-to-eye level every time we meet. I have built this kind of relationships, which I will hold onto in the future and I am sure the coming generations will do the same.

I want to thank all of you present here and those who cannot be here with us tonight. Have a wonderful evening!
https://willybrandtcenter.org/wp-content/uploads/2017/10/johanna-191017.jpg
600
800
see stern
http://willybrandtcenter.org/wp-content/uploads/2015/09/Logo_WBC3_RZ_small.png
see stern
2017-10-19 18:00:11
2017-10-19 18:49:15
Partners Conference 2017 – The Speech of Johanna Uekermann (Juso Chairwoman)