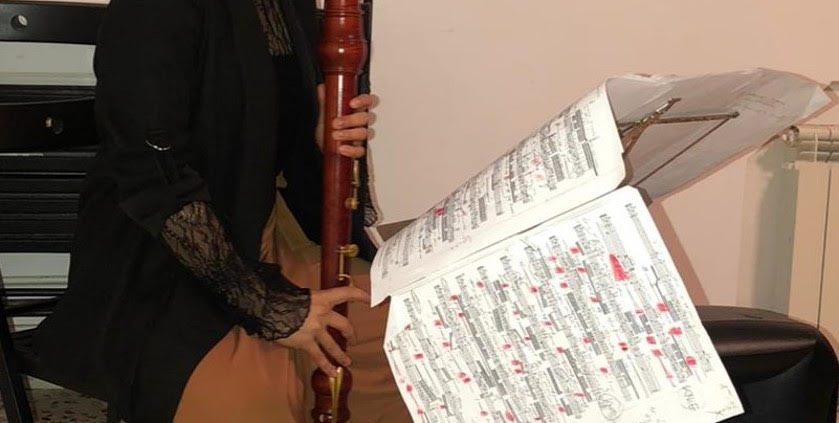 2019 marks the 30th anniversary of the death of Austrian writer Thomas Bernhard. On this occasion, selected poems were presented by Manuela Maria Mitterer (reading and recorder) and Valentin Malanetski (live electronics).
Thomas Bernhard (1931-1989) is one of the most important modern German-speaking writers. He was repeatedly denounced as a "traitor" for his outspoken criticism of Austria. His play "Heldenplatz/Heroes Square", commissioned for the 100th anniversary of the opening of the Vienna Burgtheater in 1988 and the 50th anniversary of the "Anschluss", caused particular controversy. Triggering one of the biggest cultural scandals of the 20th century, Bernhard 's works initiated a debate about Austria's role in the atrocities of National Socialism.
The program "Wind and Transience" was presented in collaboration with the Austrian Cultural Forum, Tel Aviv. Mr. Arno Mitterdorfer, director of the Austrian Cultural Forum, Tel Aviv, welcomed artists and audience, highlighting Bernhard's important role in "rubbing salt into the wounds", as an extraordinary example of the power of art to bring the past into the future.
In her review, music critic Pamela Hickman praised the poems' illustrationin music and sounds, "drawing together all the threads of the evening's contents into a rich, disturbing but captivating journey".
https://willybrandtcenter.org/wp-content/uploads/2019/12/PK_photo-Thomas-Bernhard-3.jpg
1175
839
Nitzan
http://willybrandtcenter.org/wp-content/uploads/2015/09/Logo_WBC3_RZ_small.png
Nitzan
2019-12-08 14:24:51
2019-12-08 14:32:45
"Wind and Transience. Music to lyrics of Thomas Bernhard" – November 11, 2019